In the beginning was the plot...
January 2021 - Floods!
The low level of soil in places on the plot was a worry from the start and one of the reasons why manifested itself after a prolonged period of rain and snow in late December and January - flooding!
The most likely reason is probably the rising of the water table, as the allotments are in the river Leen valley close by.
The water has remained into February and we have to both wait for the water table to drop naturally but in some areas, i.e. next to the greenhouse and where the dome is to be erected, try to raise the ground level by dumping woodchip - of which fortunately there is a fairly plentiful supply from Pete's Derby allotments.
There will also be a plan to raise the soil level of the beds back up to path height, by digging out the first 8 to 10 inches of top soil, dumping a layer of woodchip down and then putting the topsoil back. It's going to be a long job...
December 2020 - Strimming
Having strimmed the smaller 'half' of the plot soon after starting to assist Imran, Pete decided the other, larger portion of the plot should be strimmed, once Winter had stripped the leaves from trees and brambles - making it a slightly easier task.
Strimming can be fairly taxing, hauling the strimmer around and trying to reduce large clumps of brambles down towards ground level.
Apart from reducing the undergrowth satifactorily, there can be additional side benefits, including revealing the 'lost' planters and a clutch of paving slabs which can be utilised elsewhere sometime.
November 2020 - A greenhouse
In 2019, Pete had been given a surplus greenhouse frame by another plot holder which has was happy to pass on to Imran.
First task was wto prepare a base next to the shed area. This involved clearing, including the removal of several metal 'grills' buried in the ground as some form of chicken coop apparently, as well as moving soil and laying some surplus slabs, also provided by Pete.
Erection of the greenhouse was not quite straightforward as it was not certain we had all the pieces and there were no instructions either. Three replacement corner brackets had to be fabricated.
Eventually we managed to raise the greenhouse and glaze it (with polycarbonate kindly provided by Tim and Graham), ready for serious use in 2021...
October 2020 - Clearing begins
So began the task of clearing and some exploratory digging. Fortunately, we had the use of a petrol powered brush cutter, which Tim and Graham had invested in which quickly made short work of the weed covered side (see picture, right). The other side could wait for later.
What was more concerning was the soil, whilst looking fairly rich and fertile, seemed to be infested in places with wither bindweed or ground elder - neither welcome at all. Soil levels were a puzzle too. At the sheds end it was well belowthe level of the paths which did not seem right.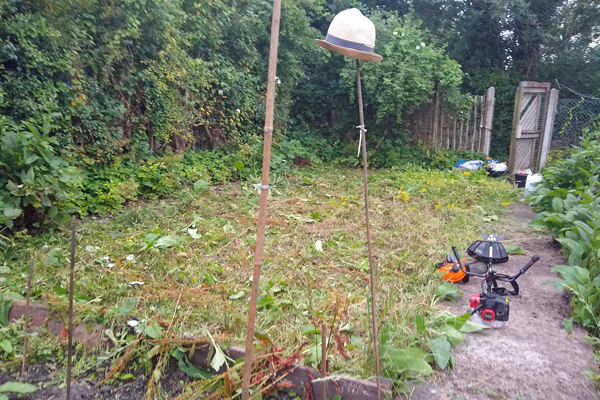 September 2020 - The Shed
Imran had inherited two sheds on his plot. This one is the larger, but more 'tumbledown' of the two, with no viable roof. So a temporary 'fix' has been to lay a tarpaulin (courtesy of Tim) over the roof and tie it down to at least keep the interior dri-er.
Bottom right of this picture is a double compost bin - made up of sides fashioned from lengths of pallet wood and tied together with 'soft wire'. A double bin facilitates turning compost from one into the other regularly to assist the composting process. An allotment without a properly managed allotment in in my opinion not a proper allotment!
The picture also nicely illustrates one of the joys of allotmenting - a beautiful clear afternoon with a cloudless blue sky. Ideal.
August 2020 - The Beginning
Imran had been visiting Tim's plot and was inspired by what had been achieved there, so much so that he had secured a plot of his own at Bobber's Mill Allotments, on the other side of Nottingham to St. Anne's.
The contrast to Tim's plot could not be more striking - a low lying flat piece of land, established in the last 60 years and in the case of Imran's plot, well set out with concrete paths. There was also the bonus of two sheds - albeit a little worse for wear but rescuable.
As usual though, with all 'abandoned' plots, nature had quickly taken over and one side was overgrown with common weeds and the other, larger side, taken over by brambles, though not quite as imposing as those we found on Tim's plot...